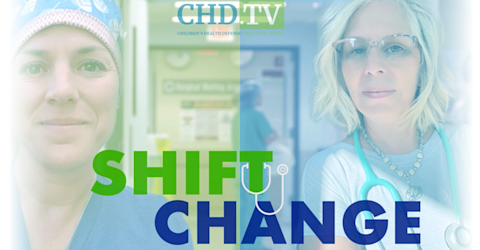 archived show •
Shift Change
Two nurses giving a loud voice to their silenced bedside warriors. From the RN perspective, this show is dedicated to inviting discussions and frank conversations surrounding the most pressing medical, legal, and nursing topics of today. Nursing needs a shift change.
Hosts: Jeanna Reed, Jill Rubolino
*The opinions expressed by the hosts and guests in this show are not necessarily the views of Children's Health Defense.
Tune in to this episode of 'Shift Change' as Jill and Jeanna break down the 2 million injuries in VAERS, failures with CICP COVID compensation, cherry-picked data and more. Then, they interview attorney Rolf Hazlehurst as he discusses unconstitutional minor consent, lawsuits in DC and the "massive organized propaganda" taking place. Viewers need to hear this!
Over 25,000 COVID deaths? An attack on religious freedom? Nursing burnout? In this week's 'Shift Change,' hosts Jill and Jeanna are joined by Tori Jensen, RN, RD. Tori stood firm in her religious exemption to the COVID mandates and was escorted out of her hospital. She shares her story, in this episode, as well as provides insight on nurses as patient advocates, experimental vaccines, VAERS reporting and more.
In this week's 'Shift Change,' Jeanna and Jill dive into post COVID-19 myocarditis and compare it to 'classic' myocarditis. They analyze the autopsies of two 12-year-olds who died after vaccination. Also, viewers hear a VAERS update and the call to action for their own roles in this fight for accountability and truthful reporting.
In this episode of 'Shift Change,' hosts Jeanne and Jill welcome Karen Kain to the show for a powerful discussion on the Advisory Commission on Childhood Vaccines and the "shocking" things Karen has been through as a member of the organization. Listen as she explains the bullying, silencing and cancellation she experiences in the board meetings and in various situations with the other members. "I've been muzzled, I've been laughed at, I've been bullied." Hear her story in this week's episode.
Wondering what the role of informed consent is in the midst of COVID mandates and treatments? In this week's 'Shift Change,' hosts Jeanna and Jill define and discuss this hot topic as well the conflicting statements regarding mandatory vaccinations. What are the consequences when drugmakers don't provide accurate information? What is an immunization policy statement? What does it mean for our society when kids no longer need parental consent for vaccination?
This week's 'Shift Change' takes viewers through the headlines and statistics that matter. Hosts Jeanne and Jill discuss poor management in healthcare leadership, nursing home ratios, natural immunity, medication price match and more. Listen as Jeanne and Jill analyze COVID-19 treatments — from vitamin D supplementation to Remdesivir.
Join hosts Jill Rubolino and Jeanna Reed in this episode of 'Shift Change' as they break down the important numbers and ask the tough questions. In this episode, hear as they update viewers on Open VAERS numbers and analyze the COVID profiteering for executive leadership, Big Pharma, and other entities.
In this week's 'Shift Change,' guest Jennifer Bridges joins for a conversation on the lawsuit against Houston Methodist Hospital for the firing of hundreds of employees. Nurse Bridges also describes the suppression of federally mandated reporting of vaccine adverse events due to threats and intimidation of staff. She updates viewers on how to support freedom of medical choice in the workplace.
On 'Shift Change' this week, hosts Jeanna and Jill welcome guest Lorie A. Brown, RN, MN, JD, for a conversation on nursing license protection. "I want to create an environment where nurses are supported," Lorie tells the viewers. Her advice on honest and accurate documentation, choosing solutions instead of complaints and the journey to empowerment is encouragement that you won't want to miss!
In this episode of 'Shift Change,' Jeanna and Jill tackle healthcare hypocrisy, sharing insider information on hospital stories. They also discuss the reason why 'free' COVID testing is deceptive. Other topics that this episode covers include the states of Texas and Florida as well as the use of masks.
Jeanna and Jill discuss important current events, in this episode of 'Shift Change.' Hear from frustrated nurses and anonymous employees on the unsafe staff-to-patient ratio in hospitals that are pushing "their own agenda." Also, Jeanna and Jill explain vaccine "excipient" and the 'Epidemiology and Prevention of Vaccine-Preventable Diseases: The Pink Book.'
In this episode of 'Shift Change,' Nurses Jill and Jeanna do a deep dive into vaccine injury, where to seek help and how to use the OpenVAERS website that allows the public to make sense of weekly injury and death data.