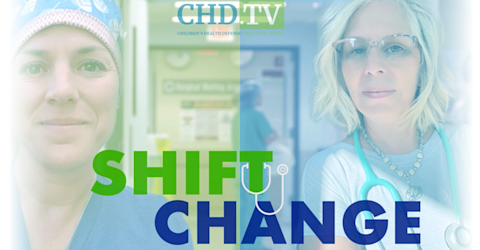 archived show •
Shift Change
Two nurses giving a loud voice to their silenced bedside warriors. From the RN perspective, this show is dedicated to inviting discussions and frank conversations surrounding the most pressing medical, legal, and nursing topics of today. Nursing needs a shift change.
Hosts: Jeanna Reed, Jill Rubolino
*The opinions expressed by the hosts and guests in this show are not necessarily the views of Children's Health Defense.
Tori Jensen, R.N., R.D. Fired + Escorted Out of Kaiser Hospital, Tells ALL
Over 25,000 COVID deaths? An attack on religious freedom? Nursing burnout? In this week's 'Shift Change,' hosts Jill and Jeanna are joined by Tori Jensen, RN, RD. Tori stood firm in her religious exemption to the COVID mandates and was escorted out of her hospital. She shares her story, in this episode, as well as provides insight on nurses as patient advocates, experimental vaccines, VAERS reporting and more.