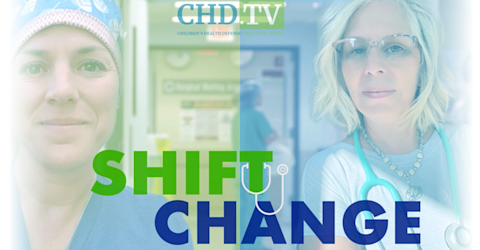 archived show •
Shift Change
Two nurses giving a loud voice to their silenced bedside warriors. From the RN perspective, this show is dedicated to inviting discussions and frank conversations surrounding the most pressing medical, legal, and nursing topics of today. Nursing needs a shift change.
Hosts: Jeanna Reed, Jill Rubolino
*The opinions expressed by the hosts and guests in this show are not necessarily the views of Children's Health Defense.
'The Things I've Gone Through Are Shocking' ACCV Member Karen Kain
In this episode of 'Shift Change,' hosts Jeanne and Jill welcome Karen Kain to the show for a powerful discussion on the Advisory Commission on Childhood Vaccines and the "shocking" things Karen has been through as a member of the organization. Listen as she explains the bullying, silencing and cancellation she experiences in the board meetings and in various situations with the other members. "I've been muzzled, I've been laughed at, I've been bullied." Hear her story in this week's episode.