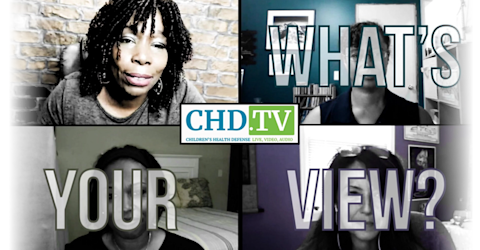 archived show •
What's Your View with Sumayyah Simone
Sumayyah Simone and Dr. Sheila Ealey show us the healing power of thoughtful dialogue as they create a space for educational, unifying and inspiring conversations surrounding the issues that are most relevant on our planet during these turbulent times.
Hosts: Sumayyah Simone, Dr. Sheila Lewis Ealey
*The opinions expressed by the hosts and guests in this show are not necessarily the views of Children's Health Defense.
In this episode of 'What's Your View,' guest Dr. Stephanie Seneff discusses misinformation and lack of information about mRNA technology, GMO, glyphosates and more. Seneff describes the science behind the "very toxic" spike protein and its connection to the vagus nerve. She also explains cancers, food allergies and immune compromise that result from "by far the biggest contaminant": glyphosate. How do we protect ourselves? What makes this a "massive experiment on a grand scale?" Why do batch variability and manufacturing flaws in general impact the vaccines? Tune in to hear answers to these questions and more!
While fighting the medical establishment in court Jennifer witnesses her mother, Nancy, take her last breaths. Jennifer and attorney, John Coyle, tell of the "sick game" played by the hospital in keeping appropriate treatment from Nancy and how the establishment held out while this mother and wife suffered until her death. "This seems like a science fiction movie … until you've been there."
"Depression and anxiety were an epidemic before the pandemic." In a society full of unhealthy messaging, unhealthy food and unhealthy emotions, what does depression truly mean and how do we fully treat it? Join guests Dr. Linda McClain and Tim Manthey as they break down the depression epidemic and critical ways to heal from it. Hear how COVID has impacted children's mental health in drastic ways.
Tune in to this episode of 'What's Your View' to hear an impactful message from Clint Ober and how his work relates to us as humans. Ober describes why our bodies are "electric first, chemical second" and what it means to be a charged being on a battery-like planet. How does living our daily lives without "grounding" contribute to our body's fight-or-flight response and elevated cortisol levels? Clint answers this question as well and explains how "grounding" is already a common practice in many businesses and hospitals. Hear how to get started and reduce pain and inflammation by implementing these simple practices!
Ever wonder if masks really work? Ever suspect that wearing them does more harm than good? For answers to these questions and more, tune in as 'What's Your View?' hosts Sumayyah Simone and Dr. Sheila Ealey interview Avery M. Jackson III (M.D., FACS, FAANS). "When you take away a person's face, when you take away the ability to hug and when you add fear … that's literally going to affect the immune system."
Join hosts Sumayyah Simone and Dr. Sheila Ealey as they welcome guests Tricia S. Lindsay, Esq. and John Coyle to 'What's Your View' this week. In this episode, viewers hear a powerful discussion on medical freedom and civil rights, educational disparities and criminal justice and the tyrannical and dictatorial powers at play in our society. "This information is so deep and so varied," so make sure you don't miss it!
In this episode of 'What's Your View,' Jamard Banks from Herbal Kemistry discusses the value of alternative, non-conventional medicine. He speaks to the uniqueness of each person, saying that specifying treatment for the person "is key." More topics covered this week include sugar cravings, food combining, the true cost of medicine. Why does liver health matter? What's up with GMOs? How are your colon, body movement, water and magnesium related? For answers to these questions, join Sumayyah, Dr. Ealey, and Banks in this episode!
This may come as a surprise to many of us who want to make a positive difference on this planet — but the way you make a difference is by taking good care of yourself first! In this week's 'What's Your View' guests Naomy Depeña, Jamard Banks, Tim 'The Sackman' Manthey, Daniel D'Elia, Samya Santos and John Salama talk about several wise principles of life that lead to peace and satisfaction. Be sure to tune in!
Be empowered. A big part of being of service to humanity is being of service to your own community. Making informed decisions is of utmost importance to our long-term health and wellness. Join host Sumayyah Simone and guest Wekesa Madzimoyo in this episode of 'What's Your View' as they talk about feeling empowered enough to do the necessary research and understanding the science needed to make good decisions for yourself and your family.
Some the most enlightened people on earth are chiropractors! There are so many amazing approaches to maintaining and healing the human body, let's look at the one that maintains your spine. In this episode, host Sumayyah Simone and guest Uchenna Onyeani talk about the wonders of chiropractic care and some of the miracles that are created when the spine is in alignment. Don't miss it!
This week, on 'What's Your View,' host Sumayyah Simone and guest Dr. Christina Parks talk about the science surrounding how African Americans respond differently to viruses and allopathic interventions. The science is well documented yet policy decisions are being made that negatively impact the African American community disproportionately.
If you were doing the most important work of your life, wouldn't you want to be in an optimal state? A long sustained challenge requires a different mindset. It requires a higher state of consciousness. It is of most importance, now especially, that we ground ourselves in the values that we believe in and begin building from a place of love, gratitude and health. Host Sumayyah Simone and guest Naomy De Pena talk about how to do just that, and how to build community around positive experiences while still standing strong and resolute in our own vision for the future of humanity.
In this episode of 'What's Your View?' host Sumayyah Simone welcomes Claudine M. Winston — MBA, author, international speaker, EdTech founder, global education advocate, mentor, serial entrepreneur and courageous mom for an exploration of homeschooling in the digital age. Be sure to tune in!