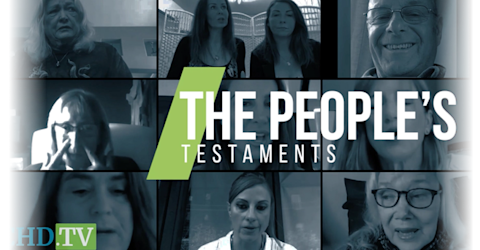 live every Tue at •
The People's Testaments
Listening is an act of love and no one knows this better than the Children's Health Defense Team. Join Stephanie Loccricchio in getting to the heart of the matter as she invites those who have been profoundly impacted by vaccine injury, medical mandates, censorship and social injustice to share their stories and experiences.
Hosts: Stephanie Locricchio
*The opinions expressed by the hosts and guests in this show are not necessarily the views of Children's Health Defense.
Kaley did not react well to her HPV vaccination. From episodes of tremors to a heart rate over 200, her life completely changed after just one shot. At one point, Kaley and her dad both thought she was going to die. Since that fateful day, she has been sharing her story on social media and in personal conversations in order to spread the word that vaccine injury is real. Listen to Kaley's heartbreaking story on 'The People's Testament.'
When asked whether 'brain-dead' people can still feel pain, Heidi Klessig, M.D. and today's 'The People's Testaments' guest, answers, "Absolutely, they can." An often unspoken topic, the concept of medical death diagnosis and organ transplants is discussed in detail in this episode. Viewers, don't miss this jaw-dropping conversation!
Anne decided to delay the scheduled vaccines for her child. Shortly after the first dose of MMR was administered, the child began to experience intense and regular seizures. What followed is absolutely shocking. Not only did they go through a 5-year fight in the courts but also pursued a brain-altering surgical procedure and continue to fight the effects of vaccine injury. Listen to the heartbreaking story of Anne's child on 'The People's Testaments.'
In their struggle with body image and other stressors, today's guest went through with social and physical gender transition. Despite the surgery and puberty blockers, their mental health continued to worsen. This individual was also supported by their family and medical practitioners until they decided to detransition. Chloe Cole shares her heart-wrenching story on 'The People's Testaments' — don't miss it.
Nicola's daughter was taken away from her for her choices concerning treatment with natural medicine. Today, on 'The People's Testaments,' she shares her story and journey to advocacy. Be sure to tune in to this heart-wrenching episode!
Alexia McKnight shares her testimony, today, on CHD.TV. After experiencing unexpected and unidentifiable symptoms, Alexia began to wonder what was the root cause. What she discovered about this invisible toxin that exists in and around our own homes will shock you! Listen to her story on 'The People's Testaments.'
When Laura Chapman joined a group on social media with over 70,000 people, she finally felt like she had the answer to why her twin daughters were suffering from terrible symptoms of cognitive impairment that affected their sleep and development. Today, on 'The People's Testaments,' Laura shares her daughters' journey from struggling with constipation and being put on a mainstream treatment to quickly regressing, and finally, beginning to heal.
The discovery and implementation of alternative, safer treatment for cancer brought the patients of Akbar Khan, M.D. great results. However, his therapies posed a threat to conventional medicine and ultimately resulted in the revocation of his license. Dr. Khan and host Stephanie Loccrichio do a deep dive into these 'Side Effect Free Chemo' options and the ongoing battle this vilified doctor has to face for helping save lives. Be sure to watch!
"I'm on so many medications just to help me get through the day." Danielle Baker details the physical and emotional devastation that has been brought about in her life after being coerced to receive the Pfizer COVID vaccination in this week's 'The People's Testaments.' She tells viewers of the pain that advanced from her arm and neck to the rest of her body, a pain that left her "screaming" and unable to even get out of bed or use the restroom. Listen to and share Danielle's story.
After Brett Nairn's son, Rory, was vaccinated for COVID, he collapsed and died suddenly — at a devastating time. How did his tragic passing impact the family? How does this event warn others of the dangers of these injections? Watch to find out!
Powerful interviews with various medical freedom activists at the January 2023 Albany, New York rally. Hear from Adrianne Rickson, Jo Speaks Truth, Brian Brase and others in this 'The People's Testaments' episode!
Karolina Stancik exposes the 'conveyor belt' model of forced vaccination in the military and how receiving these injections changed her life forever. Watch 'The People's Testaments' to hear Karolina's story — a not-so-uncommon story, one that is rarely told and often silenced. Her warning to viewers: "It's not worth it ... Look at us. This is not how life is supposed to be."
Today's guest has not let her discoveries about medical institution abuses and harms hold her back. Rather, Ashley Grogg, RN, MSN has become a leading advocate for medical freedom and true health. Today, on 'The People's Testaments,' she shares her story as well as her perspective on injury reporting, stating, "VAERS is a huge failure" but also providing insight into the way it can be used for good. Watch this episode to hear a meaningful conversation with nurse Ashley on CHD.TV!