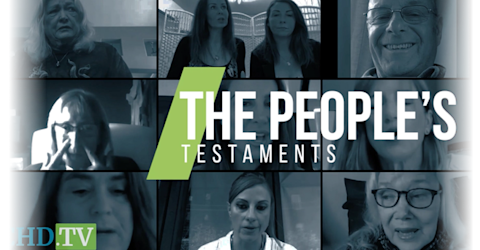 live every Tue at •
The People's Testaments
Listening is an act of love and no one knows this better than the Children's Health Defense Team. Join Stephanie Loccricchio in getting to the heart of the matter as she invites those who have been profoundly impacted by vaccine injury, medical mandates, censorship and social injustice to share their stories and experiences.
Hosts: Stephanie Locricchio
*The opinions expressed by the hosts and guests in this show are not necessarily the views of Children's Health Defense.
'I'm on so many medications just to help me get through the day.' Danielle Baker details the physical and emotional devastation that has been brought about in her life after being coerced to receive the Pfizer COVID vaccination in this week's 'The People's Testaments.' She tells viewers of the pain that advanced from her arm and neck to the rest of her body, a pain that left her 'screaming' and unable to even get out of bed or use the restroom. Listen to and share Danielle's story.
After Brett Nairn's son, Rory, was vaccinated for COVID, he collapsed and died suddenly — at a devastating time. How did his tragic passing impact the family? How does this event warn others of the dangers of these injections? Watch to find out!
Powerful interviews with various medical freedom activists at the January 2023 Albany, New York rally. Hear from Adrianne Rickson, Jo Speaks Truth, Brian Brase and others in this 'The People's Testaments' episode!
Karolina Stancik exposes the 'conveyor belt' model of forced vaccination in the military and how receiving these injections changed her life forever. Watch 'The People's Testaments' to hear Karolina's story — a not-so-uncommon story, one that is rarely told and often silenced. Her warning to viewers: 'It's not worth it...Look at us. This is not how life is supposed to be.'
Today's guest has not let her discoveries about medical institution abuses and harms hold her back. Rather, Ashley Grogg, RN, MSN has become a leading advocate for medical freedom and true health. Today, on 'The People's Testaments,' she shares her story as well as her perspective on injury reporting, stating, 'VAERS is a huge failure' but also providing insight into the way it can be used for good. Watch this episode to hear a meaningful conversation with nurse Ashley on CHD.TV!