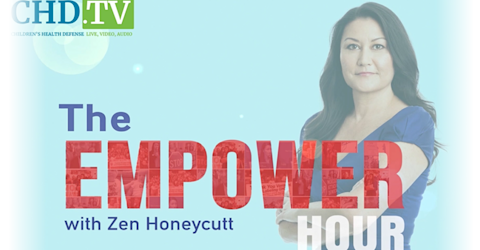 archived show •
The Empower Hour with Zen Honeycutt
Zen Honeycutt invites you to become part of the solution and a partner in building healthy communities using the time-tested tools of nutrition, detoxification and healthy lifestyle choices. Step out of the fear and into your personal power. It's time!
*The opinions expressed by the hosts and guests in this show are not necessarily the views of Children's Health Defense.
Join host Zen Honeycutt as she welcomes guests Karim and Irina Ra from Purple Sprout and guest Ben Honeycutt to this week's 'Empower Hour.' In this episode, Karim and Irina explain the connection between toxins and disease as well as provide a solution to this health crisis that we all face. Then, Ben discusses the benefits of eating an organic, whole food, plant-based diet as well as the "astounding exposé of what's going on in the poultry industry." Can this diet reverse heart disease, extend quality of life and reduce environmental damage? Tune in to hear the answer to this question and more!
Guests Deb Hodgdon and Cece Doucette from Massachusetts for Safe Technology join host Zen Honeycutt for this week's 'The Empower Hour.' They discuss the effect of radiation on sperm and reproductive DNA, the FCC's regulation capture by profiting corporations and the "big industry disinformation campaign" that perpetuates it all. Tune in to hear solutions for radiation, petitions concerning its impact and more in this episode!
Join a powerful panel on this week's 'The Empower Hour' as they discuss all things glyphosate and immunity. What is the real reason so many people are getting sick and reacting negatively to vaccines? How long does mRNA linger in your body after vaccination? What makes this whole COVID situation "corruption at the highest level?"
For this week's 'The Empower Hour,' Zen hosts two guests: Dr. Eric Plasker and Gretchen DuBeau, Esq. Plasker describes the "Pharma playbook" that is so often prescribed to and offers the preventative model of chiropractic to take the place of injury medication and its resultant addiction. Gretchen DuBeau, Esq., from the Alliance for Natural Health discusses drugs in our drinking water, ways to heal injury and deal with pain effectively and alternatively. She also shares about the politics and focus on money within the sphere of pharmaceuticals and drug companies.
This week, Zen Honeycutt puts forth a powerful episode of 'The Empower Hour.' First, she provides eye-opening news and events about the toxic food supply. Then, an interview with Pedram Esfandiary and Melissa Cantabrana on heavy metals, autism and the resultant lawsuit. Finally, Zen discusses food justice and food freedom with Karen Washington. Karen tells viewers of the value of growing food — whether on farms or in empty lots.
Skyrocketing infertility and sterility rates are the focus in today's 'The Empower Hour' as guests Mary Lou McDonald, Shanna Swan and Jaclyn Downs discuss root causes, lawsuits and functional fertility. How do we escape the 'toxic soup' that we live in to move towards reproductive health?
"Raising animals connects you to the cycle of life," says host Zen Honeycutt in this week's 'The Empower Hour.' Not only does raising your own sources of food, like what Jireh Family Farm's Immanuel and Valerie Jarvis do, supply you with empowering experiences, but the process also provides food security, food confidence and more! Join Zen as she interviews the Jarvis family on beginner tips for raising chicken. Also, 'Glyphosate Girl' Kelly Ryerson returns for a critical discussion on the status of court cases and the industry in relation to chemical pesticides and herbicides. Host Zen Honeycutt shares five tips for saving on your food budget when food supply is short and prices are high. Finally, a farmer participating in the trucker convoy speaks up!
This week's 'The Empower Hour' with Zen Honeycutt features the infectiously happy Matt Powers, author, speaker, educator and founder of R-Future. Hear about the amazing benefits of regenerative agriculture and solutions the world needs right now. Get the update on three events — The DC Defeat the Mandates Rally, the Senate Hearing COVID: A Second Opinion, and the Canadian Trucker Freedom Convoy. Viewers, don't miss this!
Watch this episode of 'The Empower Hour' to hear from guests Dr. Nagase and Dr. Bruchet on stillbirths and miscarriages. What are the real numbers? How is truth being suppressed and silenced? Watch to hear the answers to these questions and more of the story of the arrest and forced confinement of Dr. Brushet.
Mandates and the MSM narrative are the central focus of this week's 'The Empower Hour.' Host Zen Honeycutt and today's guests discuss deportation, freedom of speech and death rates. They share simple ways that viewers can be activists in their own communities. Be sure to tune in!
In this episode of 'The Empower Hour,' host Zen Honeycutt covers the division happening in America and "mass formation psychosis." In addition, special guest biological dentist Dr. David Villareal shares how biological and holistic dentistry could be the unexpected solution to a myriad of health issues. Carol Grieve brings important and shocking news regarding the food system and pesticides. Zen wraps up the show with an empowering challenge. Tune in!
Host Zen Honeycutt is joined by three guests on today's New Year special episode of 'The Empower Hour.' They discuss letting go of the past and moving to create a better future. Also, viewers hear about steps for manifesting, the importance of exercise, motivation and burn-out and the practice of meditation.