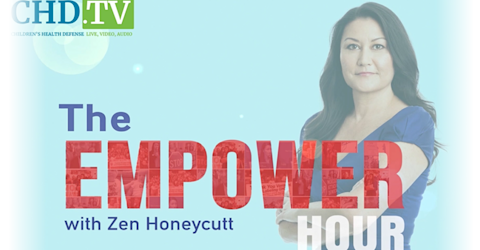 archived show •
The Empower Hour with Zen Honeycutt
Zen Honeycutt invites you to become part of the solution and a partner in building healthy communities using the time-tested tools of nutrition, detoxification and healthy lifestyle choices. Step out of the fear and into your personal power. It's time!
*The opinions expressed by the hosts and guests in this show are not necessarily the views of Children's Health Defense.
Rising Food Prices + Environmental Toxins — Solutions With Glyphosate Girl + Jireh Family Farm
"Raising animals connects you to the cycle of life," says host Zen Honeycutt in this week's 'The Empower Hour.' Not only does raising your own sources of food, like what Jireh Family Farm's Immanuel and Valerie Jarvis do, supply you with empowering experiences, but the process also provides food security, food confidence and more! Join Zen as she interviews the Jarvis family on beginner tips for raising chicken. Also, 'Glyphosate Girl' Kelly Ryerson returns for a critical discussion on the status of court cases and the industry in relation to chemical pesticides and herbicides. Host Zen Honeycutt shares five tips for saving on your food budget when food supply is short and prices are high. Finally, a farmer participating in the trucker convoy speaks up!