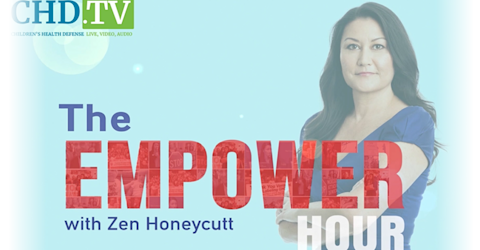 archived show •
The Empower Hour with Zen Honeycutt
Zen Honeycutt invites you to become part of the solution and a partner in building healthy communities using the time-tested tools of nutrition, detoxification and healthy lifestyle choices. Step out of the fear and into your personal power. It's time!
*The opinions expressed by the hosts and guests in this show are not necessarily the views of Children's Health Defense.
Beating Chronic Fatigue + 5 Ways to Boost Your Energy
Join host Zen Honeycutt as she welcomes guests Karim and Irina Ra from Purple Sprout and guest Ben Honeycutt to this week's 'Empower Hour.' In this episode, Karim and Irina explain the connection between toxins and disease as well as provide a solution to this health crisis that we all face. Then, Ben discusses the benefits of eating an organic, whole food, plant-based diet as well as the "astounding exposé of what's going on in the poultry industry." Can this diet reverse heart disease, extend quality of life and reduce environmental damage? Tune in to hear the answer to this question and more!