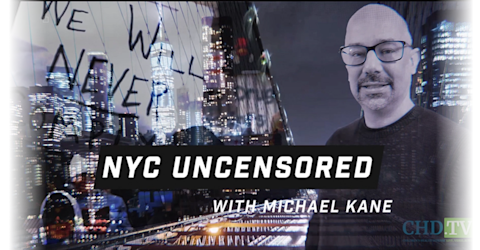 archived show •
NYC Uncensored
As the destruction of fundamental rights grows in NYC it's time to get UNCENSORED. Join CHD's Grassroots Organizer and native New Yorker Michael Kane as we take a look at the growing Anti-Mandate resistance in NYC from protests, to lawsuits, to civil disobedience and arrests in the streets of New York
*The opinions expressed by the hosts and guests in this show are not necessarily the views of Children's Health Defense.
Guest Tramell Thompson, in this week's "NYC Uncensored," has a conversation on mandates, vaccine hesitancy and standing up for people. He discusses supporting unvaccinated athletes and speaking up against tyranny. Don't miss this powerful, encouraging episode!
Join host Michael Kane as he welcomes police sergeant and president of Boston First Responders United, Shana Cottone, to this week's "NYC Uncensored." Based in Boston, Shana and this organization have helped lead the charge in the fight for freedom. Despite the manipulation and tyranny, BFRU has continued to protest the mayor and the mandates, recognizing that "an attack on the rights and constitutional liberties of one is an attack on all," as Michael states. Viewers, be sure to watch this episode!
In this episode of "NYC Uncensored," host Michael Kane returns to provide updates on the grassroots efforts/organizing in New York and beyond! This week, he is joined by Kristin Buckbee, who discusses the American Convoy and breaks down its organization. Who are these anonymous admins? Why isn't the convoy's leadership talking about this disorganization? What is so important about communication and transparency in grassroots organizing? Kristin and Michael also talk about the Themis Report and its role in this situation. Don't miss this episode!
On "NYC Uncensored," host Michael Kane brings viewers up-to-date on various areas of activism. This week, he discusses the trucker convoy, court cases on educators and mandates and more. Then, Michael Kane interviews reporter Leeroy Johnson (@LeeroyPress) on his efforts to cover the truth from the ground. Leeroy shares on discrimination and social media suspension, as he tells the real story of what he is seeing in various rallies and protests. Viewers, don't miss this powerful episode!
Michael Kane welcomes Paul Schweit, from Bravest for Choice, to "NYC Uncensored" for an encouraging conversation on his organization's efforts in fighting against vaccine mandates. Paul's message: "Uniting the vaccinated to stand with the unvaccinated." Then, host Michael Kane reflects on the #RipItUp Campaign and its continuous role in the fight for freedom.
Guest John Gilmore on Governor Hochul's dangerous New York bill: "this is what a dictator does." By sneaking through regulation, New York's governor seeks to declare anyone a public health threat, resulting in possible detainment or imprisonment without a trial. "NYC Uncensored's" own Michael Kane encourages viewers to get involved and have their voices be heard.
To kick off CHD TV's first episode of "NYC Uncensored," Michael Kane welcomes Tramell Thompson to discuss underground support systems, corrupt labor unions and the #RipItUp Campaign.