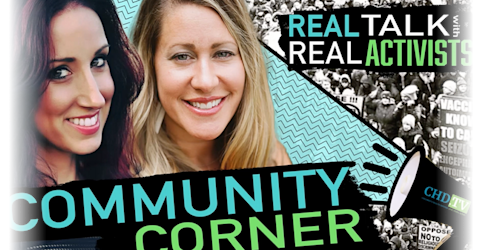 archived show •
Community Corner
You say you want a revolution? Stephanie Locricchio and Aimee Villella can relate. These moms-turned-warriors walk the walk and invite you to join them and other activists from around the world as they take on Big Pharma, Big Government and anyone else who threatens the health and freedom of their families. This is grass roots community building at its finest. Live Every Thursday at 9:00 a.m. PST/12:00 p.m. EST
Hosts: Stephanie Locricchio, Aimee Villella McBride
*The opinions expressed by the hosts and guests in this show are not necessarily the views of Children's Health Defense.
Just let our children exist — breathe, live and flourish — proclaim parents everywhere as those in control force our little ones to mask, be injected with vaccines and reside in toxic environments. But there are moms, dads, grandmas, grandpas, siblings and friends standing up for the health and wellbeing of future generations. Will you join the fight?
Vaccine injuries being reported around the world. Truckers taking a stand against mandates. Are people waking up to the tyranny and Big Pharma abuse? Tune in to this week's "Community Corner" to hear from global correspondents and receive first-hand information into the current climate of the human population.
Where is the truth-telling media, and why are so many journalists bought out by their management over conflicts of interest? For global news, from the ground, tune in to this episode of "Community Corner." Also, watch to the end to hear an interview with investigative journalist Christiane Dolan, who shares insider information on the crime of 'medical trafficking' in a world where leadership and government is "steeped in fraud."
The guests on this week's "Community Corner" discuss the vaccine approvals for babies and children and what Children's Health Defense is doing to push back against the unscientific, potentially dangerous, FDA decision. What is the true risk-benefit ratio of COVID vaccination for children, and where do we go from here?
Watch today's "Community Corner" for an update from around the world — how people are pushing back against tyranny and moving forward in advocacy. Also, viewers hear a powerful and heart-wrenching conversation with Dr. Andrea Nazarenko on mental health. Nazarenko shares her findings on the impact of lockdowns, masking and other COVID regulations on children and families.
Tune in to today's "Community Corner" to hear a recap of the Defeat the Mandates DC rally. In this episode, viewers hear a discussion of this historic day of coming together as a diverse community, uniting for medical freedom. Whether or not you were able to attend the event, you won't want to miss this recap!
In this week's "Community Corner," hear from the organizers of the Defeat the Mandates rally in D.C., Louisa Clary and Matt Tune, as well as a conversation with Kat Saari on this medical freedom advocacy event. How can viewers, like you, get involved in this fight to establish and ensure our human rights? Watch to find out!
CHD President Mary Holland joins for today's "Community Corner" to break down the current status of legal cases. Mary describes current efforts in courts on the subjects of mandates, passports and censorship and explains the pressing SCOTUS hearing. She also discusses the pragmatic impact of a recent ruling on the release of vaccination documentation.
Show up strong! Support medical freedom! How can you, the viewers, get involved in this fight — the fight that affects you, your children and future generations? It begins by getting informed and empowered. Guests John Gilmore and Rita Palma join the discussion. Watch today's "Community Corner" to find out what bad bills are being confronted and how to take the next step in standing up for human rights.