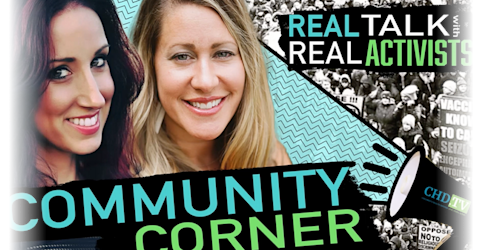 archived show •
Community Corner
You say you want a revolution? Stephanie Locricchio and Aimee Villella can relate. These moms-turned-warriors walk the walk and invite you to join them and other activists from around the world as they take on Big Pharma, Big Government and anyone else who threatens the health and freedom of their families. This is grass roots community building at its finest. Live Every Thursday at 9:00 a.m. PST/12:00 p.m. EST
Hosts: Stephanie Locricchio, Aimee Villella McBride
*The opinions expressed by the hosts and guests in this show are not necessarily the views of Children's Health Defense.
Mandating Our Educators
Today's 'Community Corner' highlights the brave NYC, DOE educator, Bonnie Skala Kiladitis, who was furloughed because of her refusal to comply with the COVID-19 vaccine mandate. She shares the impact of this decision from a professional, financial and personal perspective. Guest Sujata Gibson, the attorney representing the NYC DOE teachers in the legal battle, discusses the road ahead as NYC teachers hold the line and resist tyrannical mandates.