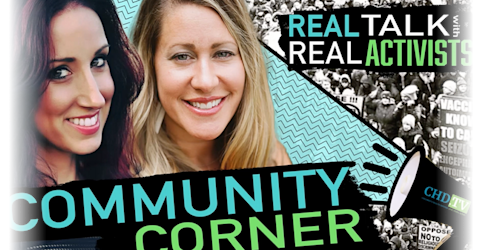 archived show •
Community Corner
You say you want a revolution? Stephanie Locricchio and Aimee Villella can relate. These moms-turned-warriors walk the walk and invite you to join them and other activists from around the world as they take on Big Pharma, Big Government and anyone else who threatens the health and freedom of their families. This is grass roots community building at its finest. Live Every Thursday at 9:00 a.m. PST/12:00 p.m. EST
Hosts: Stephanie Locricchio, Aimee Villella McBride
*The opinions expressed by the hosts and guests in this show are not necessarily the views of Children's Health Defense.
Stop Silencing Our Children
Just let our children exist — breathe, live and flourish — proclaim parents everywhere as those in control force our little ones to mask, be injected with vaccines and reside in toxic environments. But there are moms, dads, grandmas, grandpas, siblings and friends standing up for the health and wellbeing of future generations. Will you join the fight?