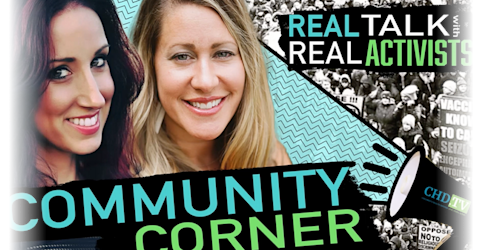 archived show •
Community Corner
You say you want a revolution? Stephanie Locricchio and Aimee Villella can relate. These moms-turned-warriors walk the walk and invite you to join them and other activists from around the world as they take on Big Pharma, Big Government and anyone else who threatens the health and freedom of their families. This is grass roots community building at its finest. Live Every Thursday at 9:00 a.m. PST/12:00 p.m. EST
Hosts: Stephanie Locricchio, Aimee Villella McBride
*The opinions expressed by the hosts and guests in this show are not necessarily the views of Children's Health Defense.
Protect the Kids — Don't Break Our Hearts
The guests on this week's "Community Corner" discuss the vaccine approvals for babies and children and what Children's Health Defense is doing to push back against the unscientific, potentially dangerous, FDA decision. What is the true risk-benefit ratio of COVID vaccination for children, and where do we go from here?