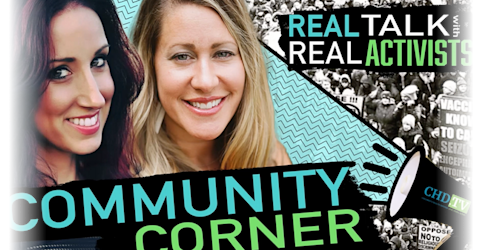 archived show •
Community Corner
You say you want a revolution? Stephanie Locricchio and Aimee Villella can relate. These moms-turned-warriors walk the walk and invite you to join them and other activists from around the world as they take on Big Pharma, Big Government and anyone else who threatens the health and freedom of their families. This is grass roots community building at its finest. Live Every Thursday at 9:00 a.m. PST/12:00 p.m. EST
Hosts: Stephanie Locricchio, Aimee Villella McBride
*The opinions expressed by the hosts and guests in this show are not necessarily the views of Children's Health Defense.
College Mandates — Know Your Rights
Mandates threaten all areas of life — in the workplace, travel and even in schools. This episode of "Community Corner" highlights university vaccine requirements. The first guest, Cait Corrigan, shares her experience being coerced, threatened, discriminated against and harassed after declining and speaking up against COVID-19 vaccination. Ray Flores, Esq., joins as the second guest to help parents understand legal rights and options with school mandates.