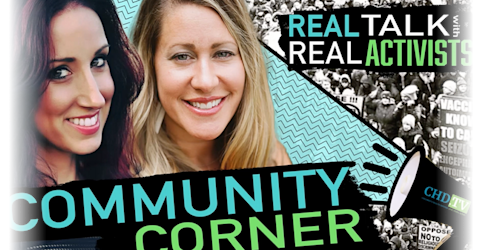 archived show •
Community Corner
You say you want a revolution? Stephanie Locricchio and Aimee Villella can relate. These moms-turned-warriors walk the walk and invite you to join them and other activists from around the world as they take on Big Pharma, Big Government and anyone else who threatens the health and freedom of their families. This is grass roots community building at its finest. Live Every Thursday at 9:00 a.m. PST/12:00 p.m. EST
Hosts: Stephanie Locricchio, Aimee Villella McBride
*The opinions expressed by the hosts and guests in this show are not necessarily the views of Children's Health Defense.
Inspired Action and Activism
Join CHD's "Community Corner" hosts Aimee Villella McBride & Stephanie Locricchio as they interview Heather Berman, a former NYC Rockette and performing artist, now turned community organizer, in this week's episode. Learn how her personal journey transformed her life and what she's now doing to take action and inspire others to do the same to fight against unjust vaccine mandates.