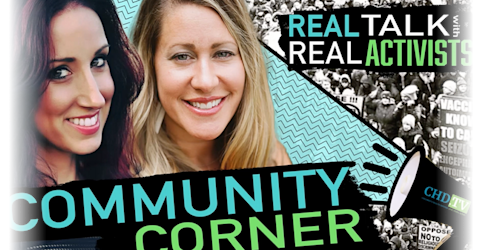 archived show •
Community Corner
You say you want a revolution? Stephanie Locricchio and Aimee Villella can relate. These moms-turned-warriors walk the walk and invite you to join them and other activists from around the world as they take on Big Pharma, Big Government and anyone else who threatens the health and freedom of their families. This is grass roots community building at its finest. Live Every Thursday at 9:00 a.m. PST/12:00 p.m. EST
Hosts: Stephanie Locricchio, Aimee Villella McBride
*The opinions expressed by the hosts and guests in this show are not necessarily the views of Children's Health Defense.
Say No to College Mandates & OTARD
Tonight's guests include Rita Palma, vaccine choice advocate who will discuss best practices for filing religious exemptions for college mandate and share the response families are receiving from the universities. Dafna Tachover, CHD's director of 5G Wireless Harms will also share the latest on the OTARD lawsuit and how to say no to 5G antennas being placed on your home and in your community. Tune in to learn more and for resources, tools and guidance to protect your rights and your health!