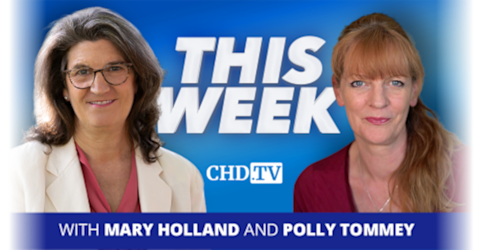 live every at •
This Week with Mary + Polly
Mary Holland and Polly Tommey dive below the surface of the news landscape to provide a deeper understanding of what lurks beneath the headlines.
Hosts: Mary Holland, J.D., Polly Tommey
*The opinions expressed by the hosts and guests in this show are not necessarily the views of Children's Health Defense.
Quadruple-Vaccinated 'Leaders' Come Down With COVID, Monkeypox Madness + Silver Linings
After COVID-19 comes monkeypox, comes polio — and the race to vaccinate every corner of the universe for anything and everything continues on. Mary Holland and Polly Tommey guide viewers through and around the craziness of the news in this episode of 'This Week.' They discuss topics, ranging from dogs with monkeypox, Wuhan gain-of-function funding, cannabis and COVID and the CDC's changing guidelines on treatment of the unvaccinated versus vaccinated. In a busy, confusing, and tyrannical world of news, find clarity and truth at CHD.TV!