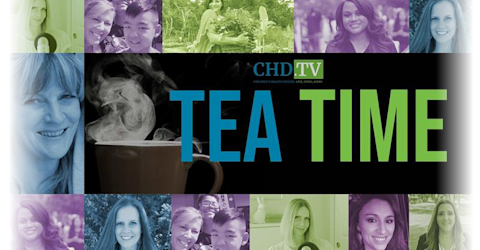 live every Mon at •
Tea Time
Polly and friends/guests spill the tea about current events, voice their opinions and have a frank conversation about everyday issues.
Hosts: Polly Tommey, Sarah Kenoyer, Nadera Lopez-Garrity, Amanda Forbes
*The opinions expressed by the hosts and guests in this show are not necessarily the views of Children's Health Defense.
Maureen and her two 'Tea Time' guests have lived through a lot. Today, they share their 'Grandmother Wisdom' on emotional and physical health, lifespan and vital longevity, grounding and more. Watch the conversation on CHD.TV!
"Don't be a victim to Big Pharma" — a "miracle" story of a boy who was destined to die at the hands of the medical establishment yet overcame it with natural treatment. His mother, Callie, joins 'Tea Time' to tell the heartwarming narrative.
Polly Tommey, Bella Tommey and Nadera Garrity discuss home birth successes, midwives and doulas. Be sure to tune in if you or someone you love is expecting or planning to have a baby — don't miss it!
The story of Simone's daughter is not uncommon. However, the success they found in recovery and treatment often remains untold. This week, Simone joins 'Tea Time' to detail the healing that her family undertook after her daughter's diagnosis and struggle with autism. Listen in!
What really is fake meat? How have today's mainstream diet recommendations been corrupted? Are there foods we can trust? Dr. Joseph Mercola gives his perspective on the state of our food supply in this week's 'Tea Time.' Listen in to the conversation!
Is fat good for you? How is store-bought milk damaging our bodies? Should we be concerned about soy? Sally Fallon Morell and the hosts of 'Tea Time' deep-dive into the modern and ancient diets of communities across the globe. They speak to dietary recommendations and the profits behind food access. Don't miss this crucial episode!
"People have to stand together and say no," "Common is not normal" and more from the hosts of 'Tea Time.' Today, Polly, Sarah and Amanda have a serious yet encouraging chat about vaccine safety and efficacy, school choice, the Super Bowl and other current events. Be sure to tune in to hear from these three inspiring women on CHD.TV!
Surveillance and tracking closer than ever? Helping adults with autism? WHO push for more surveillance and vaccination? All of this and more in this week's 'Tea Time.' This time, your hosts are Polly Tommey, Nadera Lopez-Garrity and Amanda Forbes. Tune in!
What is the relationship between gut health, vaccination, neurological function and food? James Neuenschwander, MD appears on 'Tea Time' to provide a perspective on the connection between these health topics. Hosts ask Dr. Neu various questions about medical decisions during pregnancy as well as important daily considerations for the average viewer. Be sure to watch on CHD.TV!
Don't miss this must-watch interview with guests L. Todd Wood and Scott Street as they share the details behind Big Tech, social media censorship as well as how they and others are fighting back. What role do the courts play in protecting freedom of speech online? Watch this episode to find out!
Guests Paola Brown and Laura Held report on all things homeopathy on 'Tea Time,' this week. They explain safety, efficacy and risk, labeling and marketing, informing doctors and other related topics. Viewers, tune in to hear an in-depth conversation on this form of alternative medicine!
When Martha's husband, John, received his diagnosis, she sought out to find natural, viable answers for his condition. As a result, she build a system of research and therapy that works for many individuals with chronic illness. Today, on 'Tea Time,' she shares her journey of discovery and how what she has learned can benefit viewers, like you. Be sure to watch!