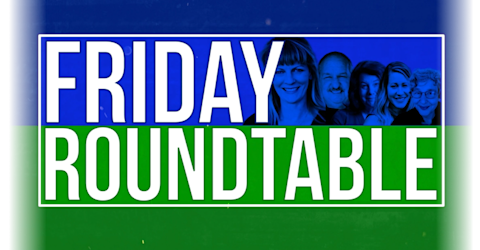 live every Fri at •
CHD Friday Roundtable
On this CHD.TV program, viewers hear from various leading experts in their fields — discussing topics related to science, medicine, law, media and more. Panelists take turns asking and answering questions, participating in an uncensored conversation on relevant topics.
Hosts: Polly Tommey, Brian Hooker, Ph.D., P.E., Elizabeth Mumper, M.D., FAAP, Mary Holland, J.D., Aimee Villella McBride
*The opinions expressed by the hosts and guests in this show are not necessarily the views of Children's Health Defense.
The CDC announces updated rates of autism — what do the numbers reveal? Listen to the panel on 'Friday Roundtable' as they discuss the data, diagnosis and developments within this sphere of public health. Viewers, don't miss the conversation!
What is the deal with spike protein shedding? Is there any legitimacy to vaccinating kids for COVID? Do solutions for neurological degeneration, cancers and diabetes exist? Paul Marik, M.D. joins 'Friday Roundtable' to divulge the truth on these important questions and more — on CHD.TV.
Two congressional hearings on relevant and critically important topics are discussed today, on 'Friday Roundtable.' First, a conversation about COVID origins and bombshell content that exposes NIH gain-of-function research. Then, a look at the Twitter Files as it relates to intentional censorship. Viewers, watch this episode on CHD.TV!
Tune in to hear a heartbreaking story, shared by Dan Hartman, about the tragic loss of his son. Sean, a healthy and athletic teenage boy, had an intense reaction to the Pfizer COVID vaccine, which ultimately led to his passing. On 'Friday Roundtable,' this week, Dan tells the full story. Also, featured doctors reveal shocking information related to this experimental mRNA technology and the unspoken dangers of childhood and other routine vaccines.
What is the greatest threat we face today, and what can we do to stop it? Polly Tommey interviews doctors, scientists, parents and students to find out their answers to these critically-important questions. Appearances from Dr. Kevin Stillwagon, Five Times August, Dr. Krishna Doniparthi, Jim Gale and others.
Brazil's ushering in of a new governmental "regime" threatens to "strip" the human rights of its citizens, according to members of the panel on 'Friday Roundtable' this week. Learn about censorship, mandatory vaccination and more taking place in this country and across the globe. Host Aga Wilson welcomes viewers to the show on CHD.TV!
15-minute cities are the least of our worries, considering all the things that Michael Yeadon, Ph.D. exposes in this week's 'Friday Roundtable' episode. He dives deep into the hard topics related to COVID origins, vaccine toxicity and whether talk of new variants are just being used as propaganda or are based in measurable truth. Viewers won't want to miss out on this intense, eye-opening conversation with Dr. Yeadon.
Holocaust survivor, Vera Sharav, answers questions about her film, 'Never Again is Now Global.' This 5-part docuseries is a must-watch for viewers, across the globe. 'How far does it have to go before parents realize we've got to take back control?' Vera asks in this episode of 'Friday Roundtable.' Tune in!
These injections have been 'designed to harm and injure people and render them infertile,' expresses Dr. Naomi Wolf in today's 'Friday Roundtable' episode. Guests Dr. Wolf and Dr. Milhoan and the rest of the panel cover devastating truths about public health and the systems that run it. Don't miss out on the valuable, jaw-dropping information shared in this dialogue on CHD.TV!
'A dystopian nightmare' — Ed Dowd, ex-BlackRock manager, appears on 'Friday Roundtable' to demystify and debunk the epidemic of sudden deaths in healthy populations. 'We're in an era of corporate fascism,' he states. Find out what he means and more in this episode on CHD.TV!
The latest in the health freedom community — news updates on FDA meetings, COVID variants, excess mortality, mask science and more — all covered in this episode. Join CHD staff as they explain breaking headlines, guidelines and testing on 'Friday Roundtable.'
Are pesticides really that prevalent and dangerous? How corrupt are their safety testing, approval processes? Three guests on 'Friday Roundtable' uncover the shocking truth behind what keeps farmers enslaved to chemical sprays as well as the solutions for breaking away from this dangerous addiction. Hear their interview in this episode.