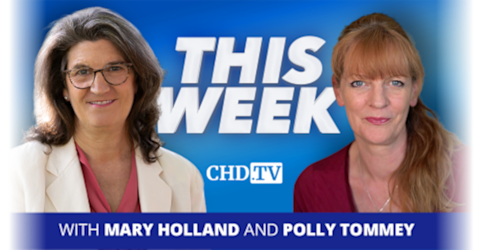 live every at •
This Week with Mary + Polly
Mary Holland and Polly Tommey dive below the surface of the news landscape to provide a deeper understanding of what lurks beneath the headlines.
Hosts: Mary Holland, J.D., Polly Tommey
*The opinions expressed by the hosts and guests in this show are not necessarily the views of Children's Health Defense.
Human brain cells and artificial intelligence? Fake meat and global control? And what is toxic toilet paper? Mary and Polly cover the latest and greatest in the news, today, on 'This Week.' Bypass mainstream media by tuning in, uncensored, to CHD.TV!
Is 5G a concern? What about Bird Flu? What should we think about misinformation and Big Tech? Polly Tommey and Mary Holland cover these topics and more on 'This Week' today. Tune in!
Pressing threats to our freedoms and sovereignty continue while individuals continue to mysteriously drop dead. Join Mary Holland and Polly Tommey on 'This Week' as they cover breaking news stories and mainstream media coverage on natural immunity, vaccination status, central banking, future pandemics and more.
Bird Flu craziness, antibiotics wreaking havoc on the gut, mandatory COVID shots for children and more — today's episode of 'This Week' is packed with valuable and relevant news stories. Viewers, listen in to what Mary Holland and Polly Tommey have to share about these trending topics in this CHD.TV program!
Tune in to 'This Week' to hear from Mary Holland and Polly Tommey on transhumanism and healthcare, vaccine mandates and injury, virus mutations and taxpayer funding and much, much more. Viewers, be sure to watch!
Mary Holland and Polly Tommey return for another episode of 'This Week.' Today, they hit hard on the news, covering global emergency extension, coding of vaccination status, tennis wins, airplane threats and more. Tune in to CHD.TV!
Join Mary Holland and Polly Tommey as they take a detailed look at trending stories — sharing the truth and exposing the lies of various mainstream and alternative media reports. Burgers made out of bugs, digitally diagnosing the unvaccinated, the World Economic Forum agenda and more in this episode of 'This Week.' Don't miss this!
Vaccination propaganda, WHO guidelines, Fauci secrets and more — all covered in today's 'This Week.' Hear from Mary Holland and Polly Tommey as they discuss these topics as well as other critical headlines and breaking news in this episode. Don't miss it!
Should we be concerned about the pollinator population? What about fluoride in drinking water? Is 5G really a danger? Mary Holland and Polly Tommey share critical information with viewers on 'This Week' today from various news sites and social media. They help break down headlines and contents of mainstream and independent articles, through accessible and straightforward presentation. Watch on CHD.TV!
'To speak up and to speak out is so important,' says Michael Kane on today's 'This Week' episode. Michael and Polly cover hot topics from across the globe — from the return of masks to Twitter files, 'incredibly frightening' levels of authoritarianism to a new COVID variant with an interesting name. Tune in!