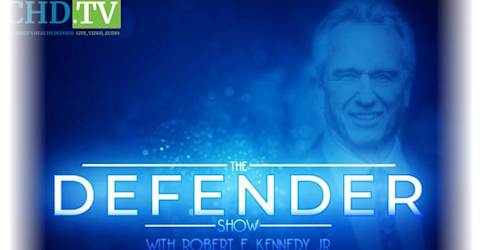 live every at •
The Defender Show
Meet the people who are changing the world one brave step at a time. Robert F. Kennedy Jr. interviews people from all walks of life who are demonstrating fortitude and integrity in times of strife and controversy.
Hosts: Robert F. Kennedy, Jr.
*The opinions expressed by the hosts and guests in this show are not necessarily the views of Children's Health Defense.
Should we be concerned about "a growing accumulation of microplastics" in our bodies of water? How do these impact fish, the overall ecosystem and human health? What about other environmental toxins? Marcus Eriksen shares his research and insights on this subject matter on 'The Defender Show.' Tune in!
This in-depth interview with Sasha Latypova is one that viewers won't want to miss! She details the corruption in clinical trials and vaccine manufacturing as well as their relationship to product manufacturer recalls and legal frameworks for regulatory agencies and countermeasures programs. Listen to 'The Defender' with RFK, Jr. and Sasha on CHD.TV!
The toxic train disaster in East Palestine, Ohio and government failure are discussed by RFK Jr and David Sirota in this episode. David Sirota is editor in chief of The Lever; Oscar nominated for DON'T LOOK UP; Bernie Sanders' presidential campaign speechwriter in 2020.
What's the deal with chemtrails? What research exists that backs up their existence? What role do they play in the health of our environment and change in our climate? Dane Wigington joins 'The Defender Show' to discuss these questions and more. Tune in!
Denis Rancourt, Ph.D. joins 'The Defender Show' to share his shocking analysis of all-cause-mortality data, related to excess deaths. He discusses the correlation between poverty and disability, which contrasts with that of age. Tune in to this episode on CHD.TV to hear from Dr. Rancourt!
Dr. Harvey Risch of Yale University discusses science versus plausibility with RFK, Jr. in this episode of 'The Defender Show.' Science starts with theories, hypotheses, that have examinable empiric ramifications. Nevertheless, those theories are not science; they motivate science. Science occurs when individuals do experiments or make observations that bear upon the implications or ramifications of the theories. Those findings tend to support or refute the theories, which are then modified or updated to adjust to the new observations or discarded if compelling evidence shows that they fail to describe nature. The cycle is then repeated. Science is the performance of empirical or observational work to obtain evidence confirming or refuting theories.