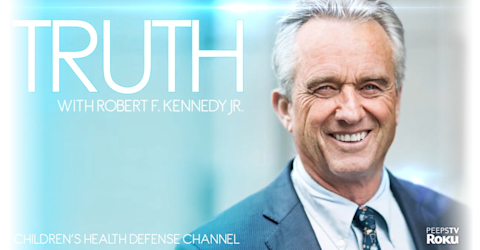 archived show •
TRUTH With Robert F. Kennedy, Jr.
Meet the people who are changing the world one brave step at a time. Robert F. Kennedy Jr. uses his platform to feature the new "profiles in courage" as he interviews people from all walks of life who are demonstrating fortitude and integrity in times of strife and controversy.
Hosts: Robert F. Kennedy, Jr., Polly Tommey
*The opinions expressed by the hosts and guests in this show are not necessarily the views of Children's Health Defense.
Rachel Carson's Struggle, Pesticides, Monsanto + More
In episode 5 of our weekly "TRUTH," series, RFK, Jr. spoke with Polly Tommey about the use of aborted fetal tissue in vaccines, Rachel Carson's struggle to inform the public about the health risks from exposure to pesticides and Kennedy's long history of holding Monsanto accountable for its dangerous chemicals.