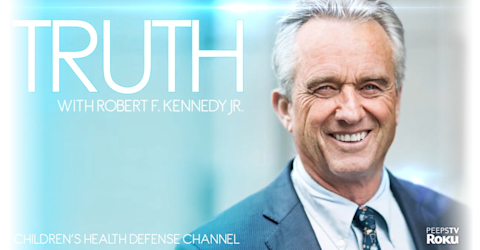 archived show •
TRUTH With Robert F. Kennedy, Jr.
Meet the people who are changing the world one brave step at a time. Robert F. Kennedy Jr. uses his platform to feature the new "profiles in courage" as he interviews people from all walks of life who are demonstrating fortitude and integrity in times of strife and controversy.
Hosts: Robert F. Kennedy, Jr., Polly Tommey
*The opinions expressed by the hosts and guests in this show are not necessarily the views of Children's Health Defense.
Health Freedom Movement, Vaccines, Moderna + More
Earlier this week, Polly Tommey and Robert F. Kennedy, Jr. kicked off the new CHD channel on Peeps TV with a lively discussion on a wide range of relevant topics in the health freedom movement. RFK, Jr. shed light on conflict of interest in the development of vaccines, early red flags in the Moderna coronavirus vaccine trials, the new "Vaccine Czar," pathogenic priming and much more.