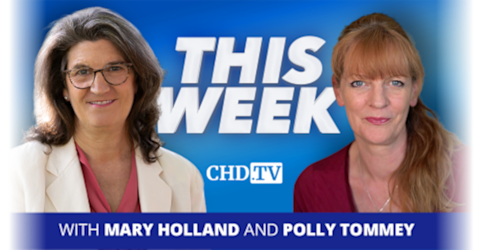 live every at •
This Week with Mary + Polly
Mary Holland and Polly Tommey dive below the surface of the news landscape to provide a deeper understanding of what lurks beneath the headlines.
Hosts: Mary Holland, J.D., Polly Tommey
*The opinions expressed by the hosts and guests in this show are not necessarily the views of Children's Health Defense.
'This is Really About Wealth Transfer,' WHO Pandemic Treaty, New 'Painless' 3-D Printed Vaccine Patches + More
Be sure to watch this eye-opening episode of 'This Week' with hosts Mary Holland and Polly Tommey. They discuss critical headlines — from Pfizer booster doses for kids to White House lies, severe vaccine injuries to vaccine patches and more. Watch to the end to see highlights from the Albany, New York rally.