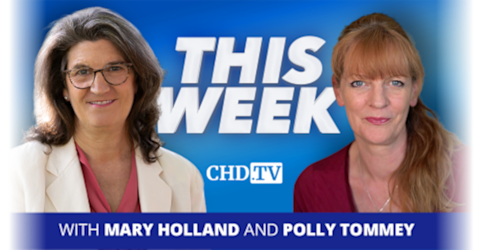 live every at •
This Week with Mary + Polly
Mary Holland and Polly Tommey dive below the surface of the news landscape to provide a deeper understanding of what lurks beneath the headlines.
Hosts: Mary Holland, J.D., Polly Tommey
*The opinions expressed by the hosts and guests in this show are not necessarily the views of Children's Health Defense.
Surgeon 'Shocked' by Severe Thrombosis in Brain of 18-Year-Old Who Died After Vaccine
This week, Mary Holland, Children's Health Defense president, and Polly Tommey, co-producer of 'Vaxxed,' cover the latest COVID headlines, including a study claiming unvaccinated people are spreading COVID variants, the statement by Dr. Leana Wen, former Planned Parenthood president, who said life should be "hard" for the unvaccinated and the Biden administration's push to ramp up COVID vaccines in settings like doctor's offices and at work. Mary and Polly also discuss the White House's new door-to-door vaccine campaign, former Minnesota Congresswoman Michele Bachman's slamming of Biden's door-to-door vaccine push and the script door-to-door government vaccine campaigners are using to persuade Americans to get vaccinated.