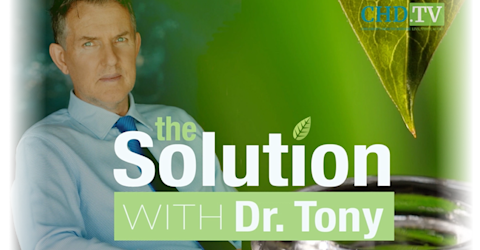 live every Sat at •
The Solution with Dr. Tony O'Donnell
Hosts: Dr. Tony O'Donnell, Dr. Catie Wyman-Norris
*The opinions expressed by the hosts and guests in this show are not necessarily the views of Children's Health Defense.
Today, on 'The Solution, Doctors O'Donnell and Hazan talk about the role of the gut and its bacteria on human health and the threat of disease. They cover fecal transplants, genomic sequencing, lyme and cancers, blood clots and much more. Be sure to tune in to this episode on CHD.TV!
Pharma control, spike protein injections, misinformation threats and more with Chiropractor John Bergman on 'The Solution.' Viewers, don't miss this serious conversation on CHD.TV about matters that affect their health and the lives of the global population.
Dr. Sherwood and Dr. O'Donnell have an in-depth conversation about COVID vaccines and treating their adverse events in this week's 'The Solution.' They also cover various related news stories that viewers won't want to miss! Tune in.
From the devastating effects of the spike protein on the body to the 'absolutely horrendous' silencing of doctors in the United States and beyond, Dr. Aseem Malhotra has an important discussion today with host of 'The Solution,' Dr. Tony O'Donnell. Viewers, tune in to hear this critical conversation on CHD.TV!
On this week's 'The Solution,' David Jensen, D.O. and Dr. Tony O'Donnell chat about relevant, health-related topics. They cover Ivermectin, mRNA technology, sudden deaths and batch variability. Dr. Jensen provides perspective into hot topics in the news that viewers won't want to miss!