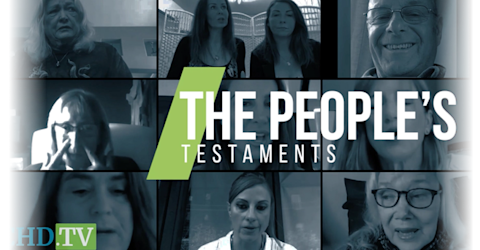 live every at •
The People's Testaments
Listening is an act of love and no one knows this better than the Children's Health Defense Team. Join Stephanie Loccricchio in getting to the heart of the matter as she invites those who have been profoundly impacted by vaccine injury, medical mandates, censorship and social injustice to share their stories and experiences.
Hosts: Stephanie Locricchio
*The opinions expressed by the hosts and guests in this show are not necessarily the views of Children's Health Defense.
'My Daughter was Worth More Dead Than Alive' — How Medical Mistreatment Killed Beloved Grace Schara
Leading up to Grace's admittance to the hospital, she was a high-functioning girl without limits to what she could achieve. In this week's 'The People's Testaments,' viewers hear the downspiral of Grace's health from the mistreatment the medical establishment as they sought to profit from her sickness. This tragic story of doctors making decisions behind a family's back which, ultimately, led to Grace's death is one that cannot be ignored.