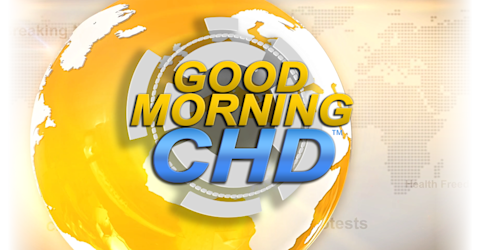 live every at •
Good Morning CHD
Good Morning CHD is a daily news show by Children's Health Defense TV bringing you the latest daily news ☀️
Hosts: Jessica Rose, Ph.D., Michael Nevradakis, Ph.D., Mary Holland, J.D., Michael Kane, Shabnam Palesa-Mohamed, Tony Lyons, Sarah Kenoyer, Nadera Lopez-Garrity, Polly Tommey, Meryl Nass, M.D., Claire Dooley, Aimee Villella McBride, Stephanie Locricchio, Maureen McDonnell, Stephen Malthouse, M.D., Brian Hooker, Ph.D., P.E., Charles Hoffe, M.D., Chris Shaw, Ph.D., Syed Haider, Ph.D., Riley Vuyovich, Rinat Strahlhofer
*The opinions expressed by the hosts and guests in this show are not necessarily the views of Children's Health Defense.
Food Supply Attacks, WEF Censorship, SA VAERS + More With Shabnam Palesa Mohamed, Maajid Nawaz + Andrew G. Huff
There is a "full spectrum war against human beings" and we need to fight back. Guests activist and broadcaster Maajid Nawaz and whistleblower and former VP at Eco-Health Alliance Andrew G. Huff, Ph.D., M.S. expose what's been going on with the recent worldwide attacks on food supply, the WEF, WHO and CIA's connection to the globalist cabal. Viewers, be sure to tune in to this vital 'Good Morning CHD' episode to better understand the enemy and be prepared for what is ahead.