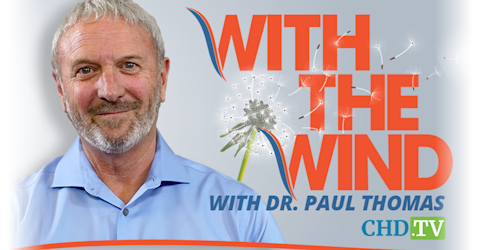 live every at •
'With The Wind' With Dr. Paul Thomas
Science and medicine are at a crossroad and courageous health practitioners are standing up to ensure that humanity and integrity aren't left behind in the name of 'progress.' Dr. Paul Thomas is one of those leading the way and amplifying the voice of brave scientists and health care practitioners who are willing to put their careers on the line to make sure 'health' and 'care' are restored to healthcare.
*The opinions expressed by the hosts and guests in this show are not necessarily the views of Children's Health Defense.
'We Need to Block the Inroads of Medical Racism' With Syed Haider, M.D.
This week, Dr. Paul interviews Dr. Syed Haider, M.D. Dr. Haider brings practical wisdom on preventing and treating COVID-19 illness and speaks to ways we can address long-haul symptoms and potential vaccine-induced side effects. He also speaks to medical racism and why government policies that limit people's access to specific treatments based on race must stop. Next, we meet Anna, a mother of two daughters who has suffered from severe vaccine-induced injuries. In closing, we connect with Casey 'Rhymewave' O'Kane, an independent underground hip-hop artist based in the Pacific Northwest. Casey shares his story of being a freedom-loving artist in this new era of COVID restrictions and how he feels called to curate events where people can build community and enjoy art together without mandates.