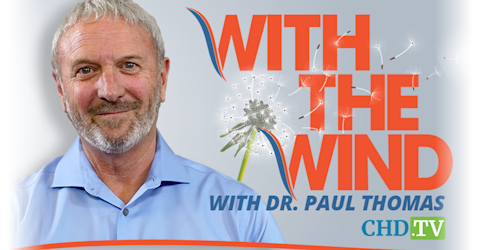 live every at •
'With The Wind' With Dr. Paul Thomas
Science and medicine are at a crossroad and courageous health practitioners are standing up to ensure that humanity and integrity aren't left behind in the name of 'progress.' Dr. Paul Thomas is one of those leading the way and amplifying the voice of brave scientists and health care practitioners who are willing to put their careers on the line to make sure 'health' and 'care' are restored to healthcare.
*The opinions expressed by the hosts and guests in this show are not necessarily the views of Children's Health Defense.
Unprecedented Attack — One of the Most Manipulated Infectious Disease Events in History With Dr. Russel Blaylock
This week's "Against the Wind" features a powerful interview with Dr. Russell Blaylock, a retired neurosurgeon and author who recently published a bombshell piece in the journal Surgical Neurology International that unmasks the COVID pandemic as one of the most manipulated infectious disease events in history. He also shares highlights from his extensive research on topics including cytotoxins, immune activation, aluminum and the connection between excessive immunizations and autism spectrum disorders.