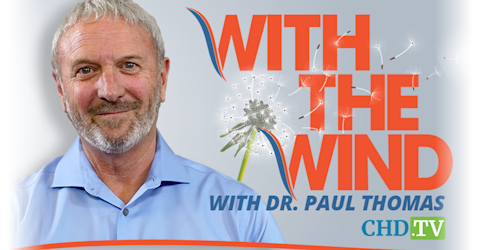 live every at •
'With The Wind' With Dr. Paul Thomas
Science and medicine are at a crossroad and courageous health practitioners are standing up to ensure that humanity and integrity aren't left behind in the name of 'progress.' Dr. Paul Thomas is one of those leading the way and amplifying the voice of brave scientists and health care practitioners who are willing to put their careers on the line to make sure 'health' and 'care' are restored to healthcare.
*The opinions expressed by the hosts and guests in this show are not necessarily the views of Children's Health Defense.
Toxins in Our Everyday Lives With James Lyons-Weiler
This week on 'Against the Wind,' Dr. Paul Thomas is joined by James Lyons-Weiler and Dr. Henry Ealy. In this episode, viewers learn about fluoride, mercury and other toxins to be aware of. Next — a discussion on finding common ground: 'Just because you disagree doesn't mean you have to be disagreeable.' Finally, Bernadette Pajer shares tips on finding reliable news sources, explains FDA approval processes and more.