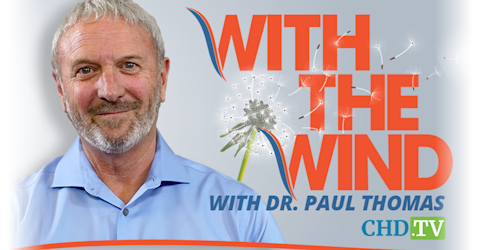 live every at •
'With The Wind' With Dr. Paul Thomas
Science and medicine are at a crossroad and courageous health practitioners are standing up to ensure that humanity and integrity aren't left behind in the name of 'progress.' Dr. Paul Thomas is one of those leading the way and amplifying the voice of brave scientists and health care practitioners who are willing to put their careers on the line to make sure 'health' and 'care' are restored to healthcare.
*The opinions expressed by the hosts and guests in this show are not necessarily the views of Children's Health Defense.
The Decentralization of Farming for Better Health + Food Security
In this week's 'Against the Wind' episode, guests and Helio Farms founders, Theo and Kira Wadman and their daughter Sonja Feintech, discuss a range of topics that include orthomolecular regenerative farming, raw milk, the importance of supporting small farmers and decentralization of farming as a key to health and food security. Then, Dee Dee Hoover interviews Dr. Paul Thomas about future projects that viewers won't want to miss!