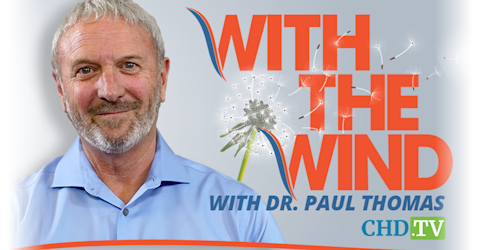 live every at •
'With The Wind' With Dr. Paul Thomas
Science and medicine are at a crossroad and courageous health practitioners are standing up to ensure that humanity and integrity aren't left behind in the name of 'progress.' Dr. Paul Thomas is one of those leading the way and amplifying the voice of brave scientists and health care practitioners who are willing to put their careers on the line to make sure 'health' and 'care' are restored to healthcare.
*The opinions expressed by the hosts and guests in this show are not necessarily the views of Children's Health Defense.
Spike Protein Research + License Suspension With Jim Meehan M.D. and Scott Miller
Dr. Paul Thomas welcomes Jim Meehan, M.D., to 'Against the Wind' for a discussion on spike proteins and the risks of experimental vaccination. Dr. Meehan states, 'Vaccines take a long time to manifest their long-term adverse effects.' Then, a conversation with Scott Miller on license suspension and alternative treatment.