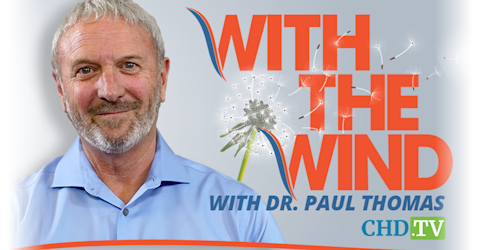 live every at •
'With The Wind' With Dr. Paul Thomas
Science and medicine are at a crossroad and courageous health practitioners are standing up to ensure that humanity and integrity aren't left behind in the name of 'progress.' Dr. Paul Thomas is one of those leading the way and amplifying the voice of brave scientists and health care practitioners who are willing to put their careers on the line to make sure 'health' and 'care' are restored to healthcare.
*The opinions expressed by the hosts and guests in this show are not necessarily the views of Children's Health Defense.
Right Response to Mandates, Propaganda + Censorship With Dr. Meryl Nass
Dr. Meryl Nass, this week's 'Against the Wind' guest, is a board-certified internal medicine physician with special expertise in bioterrorism, Gulf War syndrome, vaccine safety and vaccine mandates. She covers topics that range from COVID-19 to children's health, monkeypox and more. Nass leaves viewers with recommendations on handling emergency medical mandates, propaganda and censorship. Be sure to tune in!