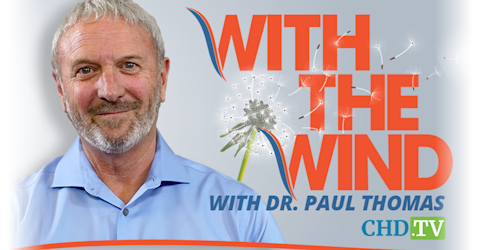 live every at •
'With The Wind' With Dr. Paul Thomas
Science and medicine are at a crossroad and courageous health practitioners are standing up to ensure that humanity and integrity aren't left behind in the name of 'progress.' Dr. Paul Thomas is one of those leading the way and amplifying the voice of brave scientists and health care practitioners who are willing to put their careers on the line to make sure 'health' and 'care' are restored to healthcare.
*The opinions expressed by the hosts and guests in this show are not necessarily the views of Children's Health Defense.
Powerful Forces Behind the Great Reset, Davos Event + More With Dr. John Meehan
Host of "Against the Wind," Dr. Paul Thomas welcomes this week's guest, Dr. John Meehan, for an eye-opening, jaw-dropping discussion. Dr. Meehan exposes the powerful forces behind the Great Reset, analyzes our COVID-19 response, breaks down the Davos WEF event and gives his input on other hot topics. He also shares his approach to mindset health as a key to creating a parallel system of health.