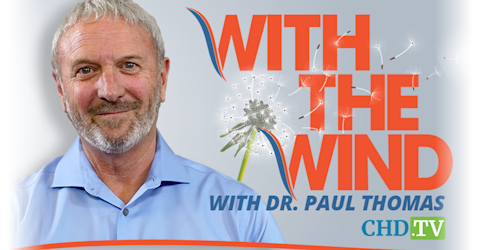 live every at •
'With The Wind' With Dr. Paul Thomas
Science and medicine are at a crossroad and courageous health practitioners are standing up to ensure that humanity and integrity aren't left behind in the name of 'progress.' Dr. Paul Thomas is one of those leading the way and amplifying the voice of brave scientists and health care practitioners who are willing to put their careers on the line to make sure 'health' and 'care' are restored to healthcare.
*The opinions expressed by the hosts and guests in this show are not necessarily the views of Children's Health Defense.
Natural Immunity and Inexpensive Therapies + Vaccines + Autism With Dr. David Brownstein + Dr. Brian Hooker
This week, Dr. Paul meets with David Brownstein, M.D., medical director of the Center for Holistic Medicine. Dr. Brownstein reflects on his success in treating many COVID-19 patients. He emphasizes the superior protection of natural immunity and discusses inexpensive therapies that are readily available. Then, Dr. Paul interviews bioengineer Brian Hooker, Ph.D., who shares his personal experience navigating the medical industry as a parent with a vaccine-injured child. Join them as they discuss the link between vaccines and autism as well as numerous studies of the vaccinated compared to the unvaccinated. In closing, Bernadette Pajer updates viewers on her Tennessee advocacy and involvement.