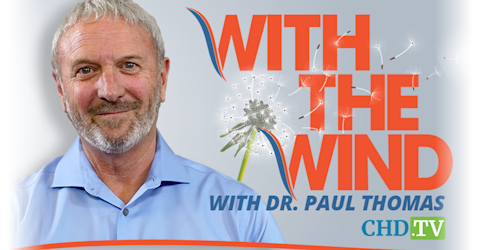 live every at •
'With The Wind' With Dr. Paul Thomas
Science and medicine are at a crossroad and courageous health practitioners are standing up to ensure that humanity and integrity aren't left behind in the name of 'progress.' Dr. Paul Thomas is one of those leading the way and amplifying the voice of brave scientists and health care practitioners who are willing to put their careers on the line to make sure 'health' and 'care' are restored to healthcare.
*The opinions expressed by the hosts and guests in this show are not necessarily the views of Children's Health Defense.
Kevin Jenkins: Medical Freedom Is 'The Civil Rights Issue of the 21st Century'
This week, on 'Against The Wind,' host Dr. Paul Thomas interviews Kevin Jenkins, who calls the Medical Freedom movement "the civil rights issue of the 21st century." Kevin discusses what he refers to as the "slave passport" in light of victimization culture. He also shares what the offensive looks like, encouraging viewers to do their part in this movement. Next, Deedee Hoover speaks about those who have fought and died for freedom, sacrificing their lives for human rights. Finally, Bernadette Pajer joins Thomas to break down the truth on masks as well as provide simple ways to 'be the news' and stop public masking.