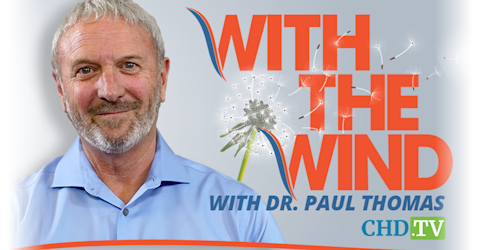 live every at •
'With The Wind' With Dr. Paul Thomas
Science and medicine are at a crossroad and courageous health practitioners are standing up to ensure that humanity and integrity aren't left behind in the name of 'progress.' Dr. Paul Thomas is one of those leading the way and amplifying the voice of brave scientists and health care practitioners who are willing to put their careers on the line to make sure 'health' and 'care' are restored to healthcare.
*The opinions expressed by the hosts and guests in this show are not necessarily the views of Children's Health Defense.
How to Constitutionally Protect Your Business Using Private Membership Associations + More
This week, on 'Against the Wind,' Dr. Paul interviews businessman and founder of the Private Membership Association team, Mike Columb. Mike discusses the value of protecting businesses, constitutionally and how this impacts the medical freedom community. Then, nurse Rachel Byers joins the show and shares her story, inspiring viewers to continue to fight for freedom wherever they are. Finally, Bernadette Pajer speaks about the recent press release from the White House on the upcoming COVID summit and exposes conflicts of interests with this event.