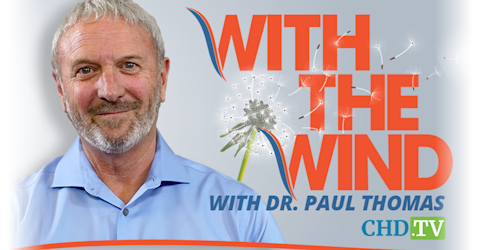 live every at •
'With The Wind' With Dr. Paul Thomas
Science and medicine are at a crossroad and courageous health practitioners are standing up to ensure that humanity and integrity aren't left behind in the name of 'progress.' Dr. Paul Thomas is one of those leading the way and amplifying the voice of brave scientists and health care practitioners who are willing to put their careers on the line to make sure 'health' and 'care' are restored to healthcare.
*The opinions expressed by the hosts and guests in this show are not necessarily the views of Children's Health Defense.
Hearing Debrief With Meryl Nass, M.D. + Israeli Ministry of Health Safety Data Leak
This week, on 'Against the Wind,' guest Meryl Nass, M.D., debriefs her daylong hearing with the Maine medical board. Her experience shines a light on what so many doctors across the country face due to stepping out of line with the government's Big Pharma agenda. Today's second guest, Josh Guetzkow, joins to cover an Israeli Ministry of Health safety COVID data leak and provides an eye-opening analysis of the Pfizer trial data. He also updates us on the state of global censorship. Tune in!