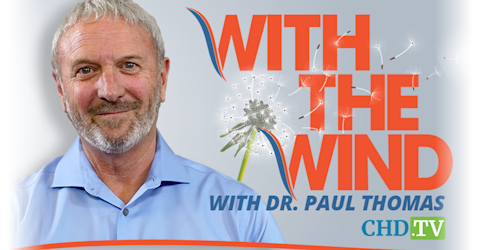 live every at •
'With The Wind' With Dr. Paul Thomas
Science and medicine are at a crossroad and courageous health practitioners are standing up to ensure that humanity and integrity aren't left behind in the name of 'progress.' Dr. Paul Thomas is one of those leading the way and amplifying the voice of brave scientists and health care practitioners who are willing to put their careers on the line to make sure 'health' and 'care' are restored to healthcare.
*The opinions expressed by the hosts and guests in this show are not necessarily the views of Children's Health Defense.
Eliminate Wireless With EMR Specialist Shane Reilly
This week, on 'Against the Wind,' guest Shane Reilly, a building biologist specializing in electromagnetic field (EMF) pollution identification and mitigation, exposes the life-threatening, life-altering radiation that surrounds us. He shares extensive research on, and specific vulnerabilities children have to, EMF exposure. Shane also dives into 5G in this episode. Then, guest Suzanne Gallagher tells parents how to find out what is really going on in their children's schools.