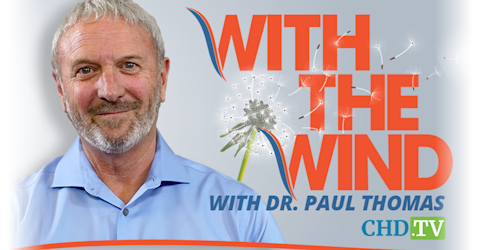 live every at •
'With The Wind' With Dr. Paul Thomas
Science and medicine are at a crossroad and courageous health practitioners are standing up to ensure that humanity and integrity aren't left behind in the name of 'progress.' Dr. Paul Thomas is one of those leading the way and amplifying the voice of brave scientists and health care practitioners who are willing to put their careers on the line to make sure 'health' and 'care' are restored to healthcare.
*The opinions expressed by the hosts and guests in this show are not necessarily the views of Children's Health Defense.
Dr. Patrick Flynn on 'Rebuilding Health and Wellness From the Ground Up'
In this episode of "Against the Wind," Dr. Paul Thomas interviews Dr. Patrick Flynn on the concept of firefighters and carpenters in the medical field and how treating and diagnosing require both. Dr. Paul then welcomes a young man to the show to tell of his adverse vaccine reaction experience. Finally, Bernadette Pajer shares the truth behind where taxpayer dollars are going, how viewers can stay informed and ways to stand up for values and beliefs.