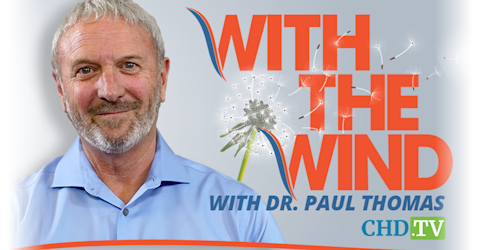 live every at •
'With The Wind' With Dr. Paul Thomas
Science and medicine are at a crossroad and courageous health practitioners are standing up to ensure that humanity and integrity aren't left behind in the name of 'progress.' Dr. Paul Thomas is one of those leading the way and amplifying the voice of brave scientists and health care practitioners who are willing to put their careers on the line to make sure 'health' and 'care' are restored to healthcare.
*The opinions expressed by the hosts and guests in this show are not necessarily the views of Children's Health Defense.
6-Month-Old Paralyzed From Well-Visit Vaccines, Mother Tells All
This week's "Against the Wind" features an interview with Doug Hulstedt, M.D., on vaccine realities, real-life cases and the state of children's health today. Then, host Dr. Paul speaks with guest Jordan, a mom whose son suffered a severe injury that resulted in paralysis and months spent in the hospital ICU after his 6-month well-visit. While this story is heartbreaking, it is an important wake-up call for us to start looking at the magnitude of all health outcomes when comparing vaccinated children to unvaccinated children.