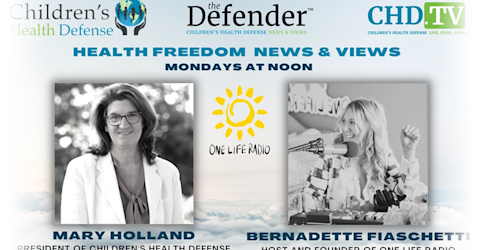 live every at •
One Life Radio
Positive, fresh, modern and real talk radio covering health and nutrition, relationships, fitness, environmental issues, giving back and more. On One Life Radio, we cover the topics that matter today in an unscripted, off-the-cuff, engaging format. Our guests include leading authors, doctors, sports figures, psychologists, nutritionists and scientists from around the globe. Our motto: one body, one mind, one life — go out and make the most of it!
Hosts: Bernadette Fiaschetti, Karen McDonough, Mary Holland, J.D., Michael Kane
*The opinions expressed by the hosts and guests in this show are not necessarily the views of Children's Health Defense.
Pandemic Simulations, Billionaires, Industrial Farms + More
Ready for an episode of 'One Life Radio' that will leave you breathless and awakened to the reality of the world we live in? Whether you feel prepared or not, this is not an episode that you'll want to miss! Mary Holland shares news on monkeypox, avian flu, baby formula, pollinator declines, Metaverse and more. What are the dangers of the vaccine on pilots and airlines? What is happening to our wild salmon population? What is Bill Gates doing to take control of our food supply?