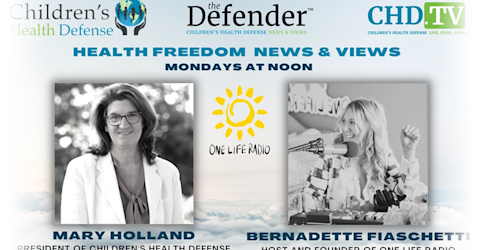 live every at •
One Life Radio
Positive, fresh, modern and real talk radio covering health and nutrition, relationships, fitness, environmental issues, giving back and more. On One Life Radio, we cover the topics that matter today in an unscripted, off-the-cuff, engaging format. Our guests include leading authors, doctors, sports figures, psychologists, nutritionists and scientists from around the globe. Our motto: one body, one mind, one life — go out and make the most of it!
Hosts: Bernadette Fiaschetti, Karen McDonough, Bernadette Fiaschetti
*The opinions expressed by the hosts and guests in this show are not necessarily the views of Children's Health Defense.
Mary Holland 'Censorship is Anathema to Democracy' + Autumn Connolly's Gardening 101
This week, on "One Life Radio," CHD's own Mary Holland brings viewers the latest news–from new vaccines to misinformation to transparency. Calling censorship "anathema to democracy," Mary challenges the mainstream narrative and exposes truth. Then, an interview with Autumn Connolly on gardening. Autumn, an advocate for microbiome health and meditation, also has a love for gardening. She breaks down gardening in simple terms and discusses creative ideas for indoor gardening. Hear how she uses an unused fireplace for microgreens and sprouts!