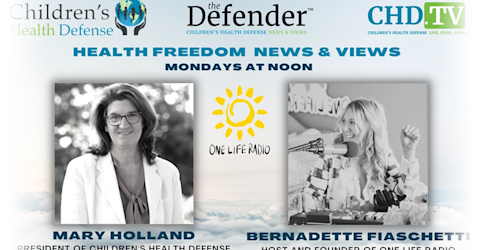 live every at •
One Life Radio
Positive, fresh, modern and real talk radio covering health and nutrition, relationships, fitness, environmental issues, giving back and more. On One Life Radio, we cover the topics that matter today in an unscripted, off-the-cuff, engaging format. Our guests include leading authors, doctors, sports figures, psychologists, nutritionists and scientists from around the globe. Our motto: one body, one mind, one life — go out and make the most of it!
Hosts: Bernadette Fiaschetti
*The opinions expressed by the hosts and guests in this show are not necessarily the views of Children's Health Defense.
FDA Declares Lab-Grown Chicken 'Safe to Eat', Massachusetts Death Certificates Show Excess Mortality + More
Surveillance, lab-grown meats, vaccine injuries and more insanity — CHD's own Mary Holland shares top stories from 'The Defender' on this episode of 'One Life Radio' that viewers won't want to miss! Hear an in-depth look at the increased mortality rates, big banks' grip on the population, the ignorance of toxic chemicals in our environment and more.