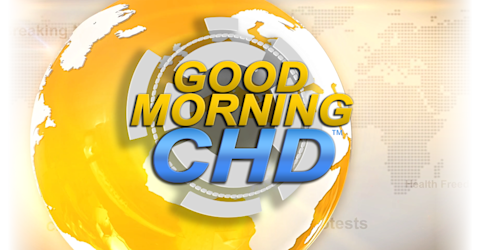 live every at •
Good Morning CHD
Good Morning CHD is a daily news show by Children's Health Defense TV bringing you the latest daily news ☀️
Hosts: Jessica Rose, Ph.D., Michael Nevradakis, Ph.D., Mary Holland, J.D., Michael Kane, Shabnam Palesa-Mohamed, Tony Lyons, Sarah Kenoyer, Nadera Lopez-Garrity, Polly Tommey, Meryl Nass, M.D., Claire Dooley, Aimee Villella McBride, Stephanie Locricchio, Maureen McDonnell, Stephen Malthouse, M.D., Brian Hooker, Ph.D., P.E., Charles Hoffe, M.D., Chris Shaw, Ph.D., Syed Haider, Ph.D., Riley Vuyovich, Rinat Strahlhofer
*The opinions expressed by the hosts and guests in this show are not necessarily the views of Children's Health Defense.
Disaster Preparedness With Billy DeMoss, D.C. + Steven Slepcevic
This episode of 'Good Morning CHD' is one that viewers won't want to miss! Today's first guest, Steve Slepcevic, shares jaw-dropping information about disaster preparedness and the looming threat of child trafficking. Then, Billy Demoss, D.C., discusses "massive misconceptions" about health and the relationship between toxicity, deficiencies and sickness. Be sure to watch!