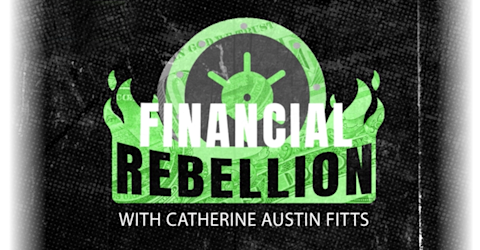 live every at •
Financial Rebellion with Catherine Austin Fitts
The revolution will not be centralized. Financial Rebellion is a weekly show featuring Catherine Austin Fitts and attorney Carolyn Betts, general counsel of Solari, Inc. who call upon their years of experience in the financial and legal sectors to provide us with the tools we need to powershift our money and reclaim financial independence from the monopolizing grip of the central banks and digital currency titans.
Hosts: Catherine Austin Fitts, Polly Tommey, Carolyn Betts
*The opinions expressed by the hosts and guests in this show are not necessarily the views of Children's Health Defense.
This is a Trap — The Mental Health Industry + What is FedNow?
This episode of 'Financial Rebellion' brings viewers news and tips on fighting back against a digitized system to continue to promote and obtain any sense of freedom left in this world. This week, questions of privacy that concern one's health records, as well as the ability to use mental health as a means of controlling and abusing humans, take center stage. Also, hear more about institutions, programs, tracking and more.