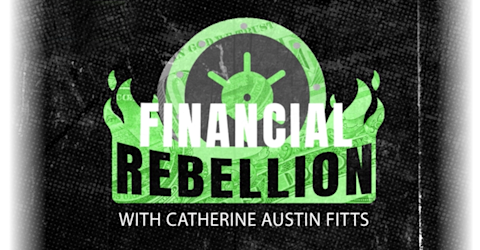 live every at •
Financial Rebellion with Catherine Austin Fitts
The revolution will not be centralized. Financial Rebellion is a weekly show featuring Catherine Austin Fitts and attorney Carolyn Betts, general counsel of Solari, Inc. who call upon their years of experience in the financial and legal sectors to provide us with the tools we need to powershift our money and reclaim financial independence from the monopolizing grip of the central banks and digital currency titans.
Hosts: Catherine Austin Fitts, Polly Tommey, Carolyn Betts
*The opinions expressed by the hosts and guests in this show are not necessarily the views of Children's Health Defense.
Centralized Banking, Vaccine Passports, + The Challenge to 'Invest in People'
On this week's 'Financial Rebellion,' Catherine and Carolyn offer more concrete strategies for viewers to fight back against the push toward centralized banking and vaccine passports. They emphasize community building, connecting to local farmers and hyper-local food sources, opting out of digitized financial transactions, using a fine-toothed comb when reading the terms and conditions of any new financial contract and asking simple but pointed questions of financial institutions. Catherine leaves viewers with the challenge to check on our neighbors and 'invest in people' rather than the stock market.