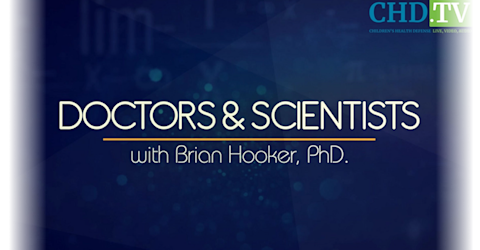 live every at •
Doctors and Scientists with Brian Hooker Ph.D.
Got Science? Are you sure?
Dr. Brian Hooker invites some of the leading voices in science and medicine to break down the studies and weigh in on the controversies so the rest of us have an opportunity to understand the science that drives public health policy and medical progress.
Hosts: Brian Hooker, Ph.D., P.E.
*The opinions expressed by the hosts and guests in this show are not necessarily the views of Children's Health Defense.
'The Missing Link' — Autism, Brain-Based Chiropractic, Chronic Health Conditions With Dr. Nancy Tarlow
Join host Dr. Brian Hooker as he interviews guest Dr. Nancy Tarlow on brain-based chiropractic, brain tap and the downfalls of a one-size-fits-all medical model. Dr. Tarlow discusses her journey from hurt to health and all the patients she has helped along the way. Hear as she describes how following a true methodology of chiropractic care can help heal kids with autism, constipation, insomnia and more.